Best Practices
Account Mapping Best Practices: How Red Hat Uncovered $30 Million Worth of Partner Opportunities
Account Mapping is the building block activity to enable Partner Co-Selling.
The cross-referencing of contacts and prospect data between partners either manually or through a platform.
Revenue builders such as leaders and managers in tech partnerships and strategic alliances utilize account mapping to drive revenue and fill pipeline.
The principle and goals are simple: One of the primary objectives of establishing partnerships is to share access to customers and deals, and Account Mapping is the process of aggregating that data to reveal where the best opportunities for that can be found.
Automated Account Mapping
Crossbeam explain further, highlighting that traditionally this has been a challenge due to the use of manual methods of exporting data to spreadsheets and running scripts to find the matches.
Apps like Reveal and Crossbeam offer the tools for automating this so that it is far more efficient and productive, such as scanning and revealing where the account overlaps are: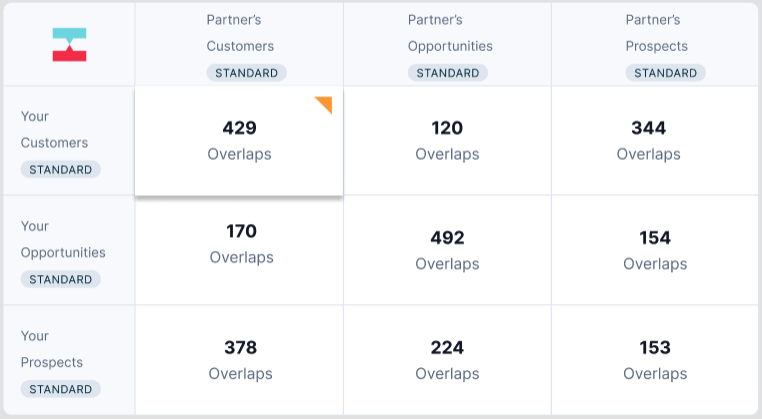 In this video the Crossbeam team demonstrate the app in action and share four best practices and use cases that it can enable.
You'll learn best practices for account mapping (based on thousands of successful Crossbeam users) and the step-by-step instructions for running reports and setting up workflows. The discussion covers a variety of use cases, including building integrations, strategizing your co-marketing plays, accelerating deals, and filling up your pipeline.
How Red Hat increased partner pipeline by 5x
The success of this practice is maximized when it provides a foundation for then a broader automated management of partner marketing and co-selling, including tracking pipeline and improving the use of market development funds (MDF) to enhance co-marketing ROI.
Another PRM vendor with relevant capabilities includes Pronto, and in this Red Hat case study they explain how How Red Hat increased partner pipeline by 5x.
Reinforcing the point it highlights how manual procedures caused excessive work for partner managers and hid the key insights that could enable them to concentrate their resources on the most effective opportunities.
Within 90 days of deploying Pronto, Red Hat Global was more easily able to identify new accounts and saw their net new pipeline increase by 5 times. Since then, they've exceeded their quarterly revenue target for partner-enabled deals by 135%.