Best Practices
Accelerate Your Software Co-selling Flywheel With AWS
A comprehensive expert panel session explaining AWS co-selling best practices.
This Youtube presentation shares how you can drive new business and accelerate your co-selling engine for your software with AWS, hosted by:
Sabina Joseph, GM, America's Technology Partners, AWS
Andrew Varhola, Senior Manager, US-West ISV Success, AWS
Mike Moss, AVP, WW partner field sales, mongoDB
Learn about the AWS co-selling roles, mechanisms, programs to globally connect with the AWS field teams, best practices to get into the mind of the AWS seller and customer, and hear from an AWS Partner about their co-selling journey and keys to their success.
Introduction – Sabina Joseph 0:40
AWS helps tens and thousands of ISVs worldwide to build and grow their business on the platform. One of the foundational elements of growing a business is co-selling.
Co-selling is a sales strategy in which your sales team and the AWS sales team collaborate on a prospect to either develop a net new business or close the current prospect while supporting one another.
Additionally, to establish a brand-new working connection between the two teams at the client. Co-selling is when representatives from both sales teams get to discuss how they can best support one another, comprehend the value offer, and close deals together. The opportunity's value for the customers grows when both teams are involved.
Benefits of Co-selling together with AWS 2:19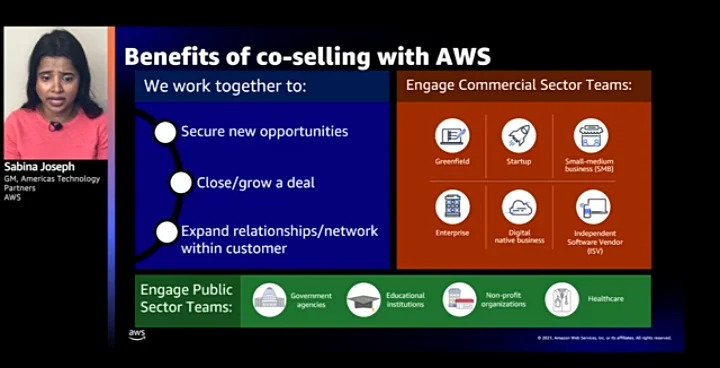 Access to millions of customers worldwide, who have a relationship with the AWS brand with deep expertise around the breadth and depth of AWS services.
Access to the mature global sales team who has expertise not just on AWS but also on the various use cases and workloads as listed in the image above.
Securing many other new opportunities.
Close/grow at deals.
Expansion of relationships with customers.
ISV partner co-selling flywheel 3:10
This is where value is being increased and at the same time lowering prices for customers. They start by lowering prices which generates more customers which in time generates more AWS usage and increases footprints across the breadth and depth of AWS services.
With a better together story and value proposition, there will be a demand generation which in turn leads to opportunities. These opportunities are the first steps to starting co-selling. These opportunities lead to more customers' success stories. And then the customers' success stories help to build trust and to replicate that same success story with other customers which leads to a flywheel of other success stories.
AWS Partner Network programs that drive success 5:06.
The three pillars of any successful partnership are co-build, Co-market, and Co-sell. For this process, you will work with the AWS partner organization, AWS marketplace, and the AWE field teams.
The partner development manager and the partner solution architect in the AWS partner organization will help you build and scale your business on the team.
AWS support across the co-sell journey
To support you, the first step is to join the software path and enroll in the AWS or APN customer engagement program: ACE.
The software path will help you grow your business on AWS with the team's foundational technical review which helps you optimize your solution for mutual end customers. The program provides you with different funding mechanisms, tools, and resources to help you along this journey.
The APN customer engagement program enables our teams (sales and marketing) and AWS teams to work together on opportunities.
The next step is to engage together to build a comprehensive business or partner plan. This partner plan leads to a better together story focused on identifying the use cases towards where demand generation activities are driven at. You can also use the competency program where you can showcase the validated solutions by workloads.
At this point, you can start co-selling together by sharing opportunities in the APN customer engagement tool, ACE. Once you've laid this foundation you can now join the ISV accelerate.
Benefits of ISV Accelerate Program 9:23
Trustworthy co-selling relationship.
Entitlement of a one-time cash incentive called ISV Spiff.
Co-sell goals with the partner management.
Sharing of Opportunities to help you generate new business.
Discount reduction fees for private offers to software companies transacting software solutions on AWS through either AWS marketplace or Data exchange.
AWS marketplace 10:56
From 10m:56s Sabina moves on to explaining the role of the AWS Marketplace, highlighting how over 300,000 customers use the marketplace to find, test, procure and deploy Cloud solutions.
She reviews many partners like Sumologic, Crowdstrike, and startups like Cloudzero to demonstrate how they transact through the Marketplace, and how it speeds up the procurement for end customers. Cloudzero has indicated that being in the marketplace helps them scale their business globally.
When an end customer buys your software solution on AWS Marketplace, the field rep for that end customer retires quota and is also entitled to additional cash incentives. AWS Marketplace has a propensity to buy model, prioritize both opportunities, and score those opportunities, which helps the sales team to accelerate those opportunities and focus on them.
Finally, AWS Marketplace has knowledgeable customer advisors embedded in the field. They will recommend your software solutions to those end customers.
Andrew Varhola 12:49 – Engaging with AWS
From 12m:49s Andrew Varhola takes the floor to explore engaging with the AWS field teams. There are both Public Sector and Commercial teams; this session focuses only on the Commercial team.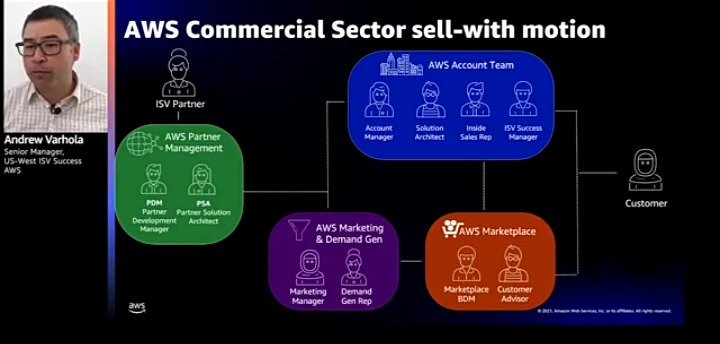 On the left-hand side of this image, you'll see that it all starts with the AWS partner network. This is the partner organization. AWS team members will drive your success in the AWS field, therefore he recommends that you connect with them.
Every end customer at AWS has various roles that include an account manager, solution architect, an inside sales rep, and an ISV success manager. There are also several marketplace resources.
Opportunity types 15:04
Andrew describes how there are two primary types of opportunity classification:
Partner originated opportunities that the ISV share with AWS.
AWS originated opportunities where opportunities are sourced and shared with the ISV partners.
What is fundamental and foundational to both is ACE, the APN customer engagement tool:
It is used to engage AWS teams together.
It provides visibility and builds with AWS sales.
It will manage your opportunity pipeline and share customer successes.
It fetches data of any kind of support relating opportunities or any kind of customer.
How AWS can help 16:16
From 16m:16s Andrew explains the support AWS can provide to progress sales opportunities.
AWS can help offset POC migration costs, and provide different funding to help move opportunities forwarded too.
AWS will help at feel acceleration.
AWS looks for areas that can be expanded within a given account.
They naturally share more information that we can expand into further account plans.
Factors that motivate AWS sellers to co-sell with you 17:20.
At 17m:20s he identifies the driving motivations that will encourage AWS reps to support your opportunities.
Customers Value: Since the team is always working backward from the customers, customers' values are always put into consideration.
Annual Sales Goals.
Incentives: With the sales goals some incentives provide additional financial benefits.
Opportunity Value: This is to grow the value and accelerate customer adoption of both the AWS platform and the ISV solution to get them using AWS faster.
What you should know before engaging the AWS account team 18:39
At 18m:39s he offers insights to be prepared with before engaging:
Always know the customer's initiative, need, or problem.
There is a need to enable the sales of both AWS and ISV.
You should both know why you are partnering on a specific opportunity and within a specific account.
AWS team is connected and they know who is doing what to drive this opportunity forward.
Examples of ISVs across every segment that have had co-selling success with AWS 19:05
He offers examples of partner success stories at 19m:05s:
Orca Security and Databricks: These ISVs have expanded their resources and noted the expansion of the AWS resourcing to drive this co-selling out in the field.
SEE and Redox: They leverage the marketplace as a channel and took advantage of the incentives that AWS has put in place.
Mike Moss's experience with working with the AWS teams 20:00
Andrew hands over to Mike Moss at 20m:00s, who leads MongoDB's global partner organization, to share their experiences from the perspective of an active partner.
From Moss's experience, MongoDB has got about 100 partner sellers tightly engaged with AWS counterparts with the focus on the identification of new, accelerating, and growing existing opportunities, all with the goal of mutual success. In this process, MongoDB has enjoyed considerable sales success together with the team.
What MongoDB sellers think about co-selling with AWS 20:51
AWS has a long-standing executive line of business and technical relationships.
AWS solution architects are viewed as trusted advisors and key to helping customers understand the technical value of the solution.
Their Marketplace simplifies billing and helps clients draw down against their existing EDP connect.
MongoDB has done lots of transactions with AWS through the AWS Marketplace. We continue to work closely with the AWS team to tee up the next big deal together.
Co-selling with AWS: Best practice and advice 24:40.
From 24m:40s Mike concludes the session by wrapping up with a summary of partner co-selling best practices:
Get used to your AWS counterparts as early as possible. Build the strategy earlier.
Be upfront on your asks.
Don't be afraid to go big together.
Leverage the program strategically.
Include success managers.
Log, close, and track opportunities regularly in ACE.
Use AWS marketplace whenever possible.
Take advantage of the AWS solution architects, they are your best and fastest at tech validation on your architecture.